Creating restaurants
This page describes the process for creating a restaurant on the CoopCycle platform. Don't hesitate to ask for help contact@coopcycle.org to configure the first restaurants.
This takes place in two stages:
Create the restaurant on the CoopCycle platform
Create a Stripe account
After performing these two steps:
Create an account for the restaurateur in the "Users" section
Assign the restaurant to this restaurateur so that he can access the back office
Prerequisite:
Having correctly configured the Stripe account linked to the platform (link to the corresponding page)
Minimum information required beforehand:
Name, first name of the restaurateur
Legal name of the restaurant
Restaurant phone number
Restaurant address
IBAN of the restaurant
Color front / back scan of the restaurant owner's identity card in JPEG or PNG format (Stripe request after the first orders for identity verification)
Contractual information (what delivery rate for the restaurant owner? For the customer? Who pays the payment fees?)
Optional information:
Opening hours (times when delivery is activated)
Number Siret
1 - Creating a restaurant
From the "Restaurants" tab, click on "Add a restaurant"
Enter information in the corresponding fields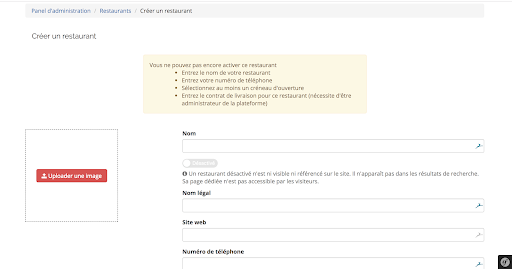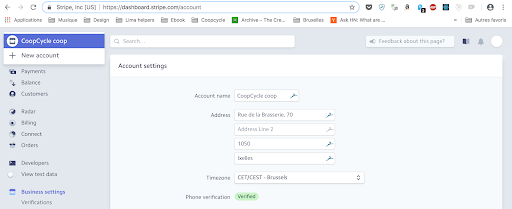 From the restaurant page on the platform, in the "Stripe Account" section, click on the "Connect with Stripe" button. The process must be repeated for dev operation and live operation.

A Stripe page opens. In the "Switch account" dropdown select the corresponding restaurant.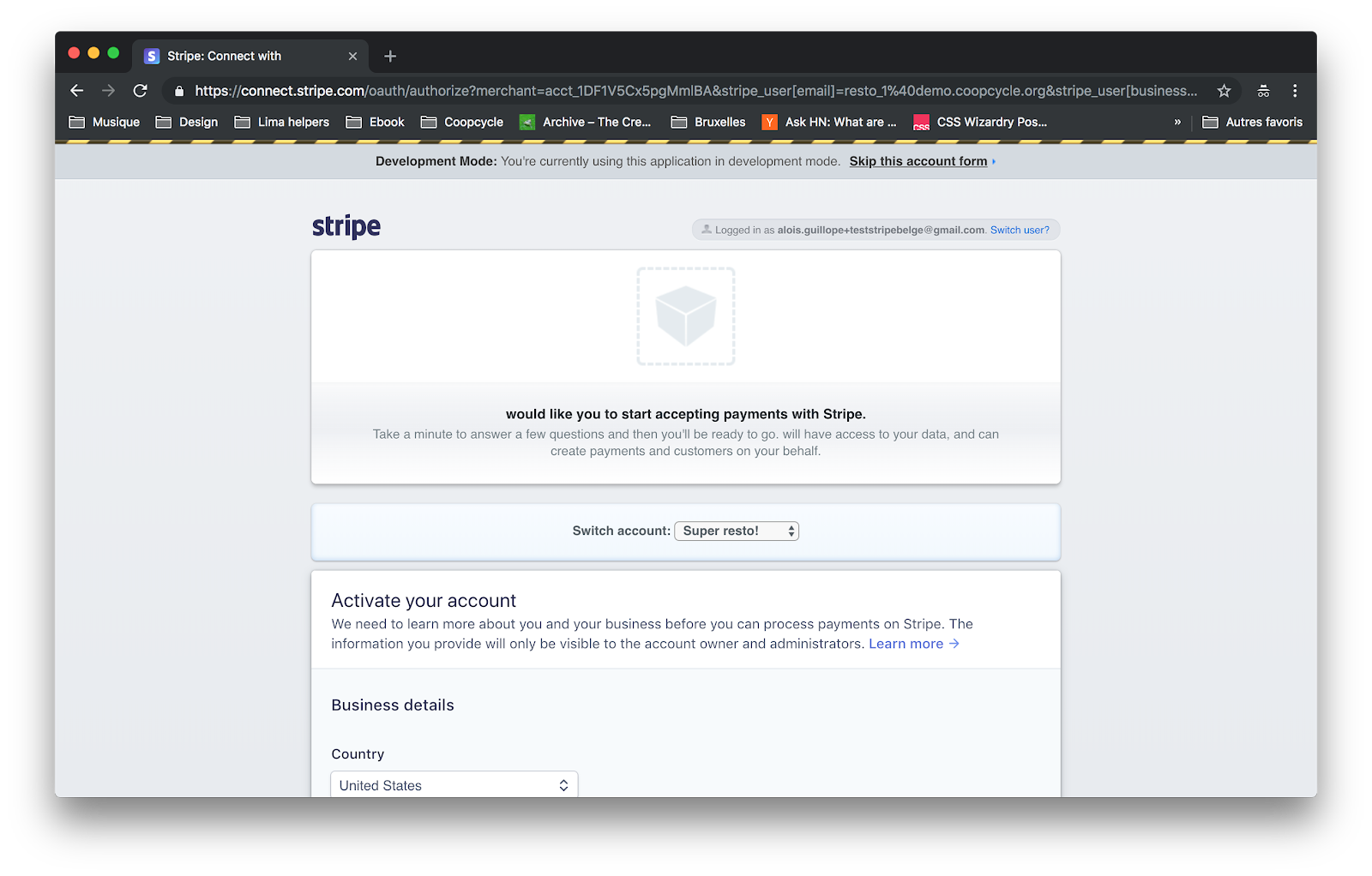 Entrer les informations du restaurateur correspondantes. Attention : dans le champ "Customer phone number" indiquez votre numéro de téléphone pas celui du restaurateur.

Check your phone number at the following address: https://dashboard.stripe.com/phone-verification?source=email: enter your phone number then copy the code received by SMS (you should have received an email notification)

And There you go ! To check that everything is in order with Stripe:

In the Stripe dashboard, select your main account (the cooperative's account) from the dropdown in the top left
Click on "Connect" then "Accounts" in the left column
In the "Recently connected accounts" list which appears click on the first (the last linked account)
Check that "Payments" and "Payouts" are green - in case of problems contact dev@coopcycle.org